Palais Royale Ballroom
For close to a century the Palais Royale has been home to great musicians such as Count Basie and Duke Ellington. In 2005, Palais Royale underwent a revival and now takes its place as one of Toronto's premier event venues.
Catering to another generation of weddings, corporate and social affairs in a spectacular setting overlooking Lake Ontario, our state-of-the-art venue will inspire those looking for innovation within an urban oasis.
Our current roster of events encompasses wedding ceremonies and receptions inclusive of same sex weddings, corporate gatherings, social affairs, bar/bat mitzvahs, high profile fundraisers and our own in-house productions of various dinners and big band dances to stay nostalgic.
Built in 1922, Palais Royale underwent a revival in 2005 restoring this historic venue to its natural beauty. Colour tones of creams and platinum blend with aged wood, and the original barrel vaulted ceiling is still alive and intact. A plush interior is adorned with contemporary art deco furnishings reminiscent of the past and state of the art visuals stimulate your senses; realizing that modern technology has found a home within the Palais Royale. The famous dance floor always a focal point sits in front of the new stage, lower and broader, exposing art deco railings and state of the art sound and lighting. Behind the stage lies the "Red Room" a VIP sanctuary in the middle of your event. The original stone fireplace is now flanked with two bars and a state of the art kitchen has been built behind the scenes. On the lower level, a bridal suite / green room has been added as well as a cozy lounge and beautifully appointed marble washrooms. The surrounding property has been completely landscaped and a 4000 sq. ft. two tiered deck faces the lake front that has been host to countless wedding ceremonies and cocktail receptions.
Love Letters
I would like to take this opportunity to express my gratitude for all your assistance. 'Our' event would have not been a success without you and the entire Palais Royale Team. Please extend my appreciation to, Robyn, Service, AV, Security staff and Chef.  Exceptional job done by all.
The reviews regarding how remarkable and impressive the food was, along with the professionalism that was displayed by all staff confirms, Palais Royale was the perfect Event selection.
Jocilea and Rebecca, words honestly cannot express how thankful I am, to had been partnered with you both. It was an absolute honor.Your guidance, patience and resourcefulness is why you are a perfect fit for your role.
Dellah  N — MetCap
It is impossible to find the words to thank you and your team enough for making our day complete perfection!  We are so happy and grateful that we chose Palais Royale – from start to finish, you have all beyond incredible to work with – we are almost sad our wedding has come and gone (except we're not really because now we're MARRIED!!) because you have made every single aspect of our planning fun!  We loved coming to meetings and always felt like welcomed friends – you and every member of your team made us feel at home (even when I was inexcusably late and nearly came in crying, you were all incredibly gracious and kind and calmed me right down!).Honestly, we still don't have words – the venue was STUNNING (and we can't wait to see pictures), everyone raved about the food ..but it was once again the service from literally EVERY SINGLE PERSON on your staff that made our day so perfect.  The professionalism, friendliness, and genuine concern for us, our families and our guests was beyond what we could have expected.  You all made us feel so special and loved, and there is nothing more we could have asked for!
Thank you again for EVERYTHING!
Brynne & Duncan
I just wanted to reach out and say thank you to you and your team at Palais Royale for another fabulous RBC Private Banking event.  Everything went without a hitch, the food was fantastic, your staff was fantastic and accommodating. went out of their way to accommodate us and worked extremely hard for us.  I can't tell you how much we appreciate it!  Please pass on my thanks to them and the whole team for a fantastic job.
Leeann — RBC
I attended the Breakfast with Santa this morning with my husband and two children. We have never attended an event at Palais Royale. Just wanted to let you know how well organized the event was and how much fun everyone had. I really appreciated the assigned seating, delicious food and organized activities for the children. My kids loved the morning we spent there.
And to top it off, Santa was authentic looking and spend time speaking to the children.
The venue was beautiful and the elves were very helpful as well.
Thank you for the great time we had we definitely will get tickets next year.
Happy Holidays!"
The Abate Family — Breakfast with Santa Program
I cannot even begin to describe to you the way we felt on our wedding day. It was like a magical, euphoric love bubble ☺ Uros and I, and our family were (and still are!) amazed at the service and coordination at Palais. We had such a fantastic time, everything went so smoothly and the feedback that we got from our guests was overwhelmingly positive both during and after the wedding.It goes without saying, that first and foremost, it was a dream working with you and I will miss talking and e-mailing with you…The staff you work with is hands-down the most wonderful, positive group of people. The guys behind the bar were so animated, energetic and fun that all the girls were talking about them! One of them (apologies I don't know his name) even came outside at the end of the night to say congrats and to thank us! for a fun night! Furthermore, everyone was raving about the food, highest compliments to the Chef Stefan! Further, the set-up both inside and outside was gorgeous and there was always someone to talk to throughout the night in case we needed anything (and we didn't even need anything!) You even allowed us to stay almost an hour dancing the night away. We had to peel the guests off the dance floor because we just couldn't stop…You all exceeded our expectations with your level of professionalism and your attention to detail and we will never forget it, nor will our guests…

Dina & Uros
- Meet Our Family -
Pegasus Hospitality Group specializes in the food and beverage operations for a distinct collection of premier event venues. Not only operating the gorgeous Palais Royale Ballroom, our portfolio consists of the historic Harding Waterfront Estate, the luxurious Grand Luxe Event Boutique and the university based Exchange Café/Pegasus Campus Catering.  Our unique catering division, Food Studio Catering, caters to a new generation of social affairs. As a full service event caterer, The Food Studio specializes in the unique collaboration of customized cuisine and personalized event planning for any occasion.
Custom to your Event
Looking for something a little more leading edge? That infamous food truck that has long brought affordable food to the street has been recently replaced by the hip, trendy gourmet food trailer. Our new state of the art mobile food studio is the reimagined food truck.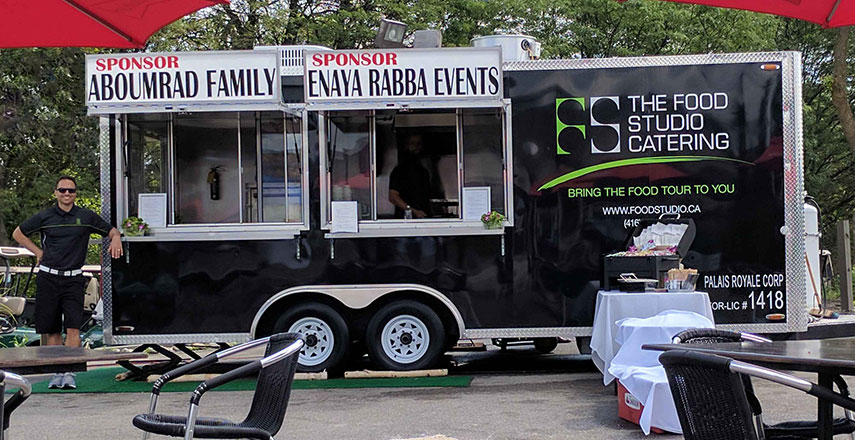 Public Events